Careers at GCSAA
Find out how you can join the GCSAA team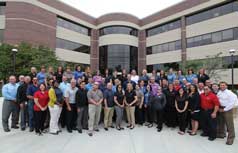 Thank you for your interest in employment with the Golf Course Superintendents Association of America. GCSAA is proud to be an equal opportunity employer that values the impact of diversity upon its members, services and workplace. We strive to be a premier employer and are proud to be a part of the Lawrence, Kan., community.
The GCSAA work experience can be set apart from others by the premium that we place on:
Your team experience and work environment. GCSAA team members are engaged, friendly, intelligent and team-oriented. GCSAA strives to provide you with a pleasant workplace and the tools and technology to allow you to be as productive as you can be.
Your growth. GCSAA's breadth of services means that we can offer you the opportunity to try new things in new areas and provide you with challenges and professional development throughout your career.
Your contribution. Your efforts and contributions to the association will be acknowledged and appreciated by GCSAA members and supervisors.
Your work/life balance. GCSAA realizes that you have demands on your time outside of work and supports flexibility in your schedule so you can be an effective team member and a good friend/family member.
GCSAA is committed to hiring people who will work with us in continuing our reputation as a "world class" association. Our selection process is designed to provide an equal employment opportunity for all without regard to race, color, sex, religion, national origin, disability, veteran status, age, sexual orientation, marital status or status in any other protected group, and to identify the candidate who we conclude best fits our needs.

For the second straight year, GCSAA is recognized as one of the "Healthiest Companies in America" by Interactive Health. Our wellness programming and comprehensive health care coverage help encourage healthy lifestyles. GCSAA is only one of two IHS clients in Kansas to be named one of the Healthiest Companies for 2014 & 2015.
We currently have openings in the following positions:
Facilities
Finance/Accounting
Working at GCSAA
Contact us
Human Resources
1421 Research Park Dr.
Lawrence, KS 66049
Fax 785-832-3657
hrmail@gcsaa.org